RECTOR SEARCH
News & Updates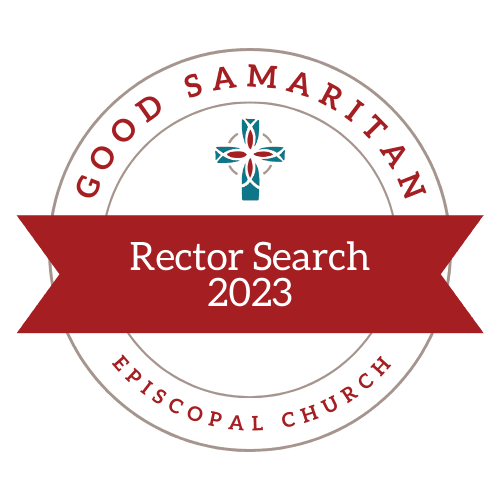 "Gracious and loving God, giver of hope, embrace us and guide us in our search for our new rector. Open our hearts and minds. Grant us courage to know what is best for our parish, not for ourselves alone. Make straight the path for a compassionate, wise and prayerful priest to find us; one who will inspire and shepherd us to a closer relationship with you, that we may see your vision for the Church of the future and have the grace and power to get there. Through Jesus Christ, our Lord. Amen."
OUR PARISH IS SEARCHING
FOR A NEW RECTOR
To apply for the position of Rector at Good Samaritan, please contact Arienne Davison, Canon to the Ordinary, at the Diocese of Olympia for more information. Application packages should include a cover letter, updated resume, current OTM profile and will be accepted until May 24, 2023.
Good Samaritan aspires to find a diverse group of candidates that reflect the full breadth of our Episcopal community.
We seek a rector who is centered in Christ, has theological training, and is grounded in scripture, prayer and the Episcopal liturgy. We value reason and authenticity and seek a rector who offers sermons and formation classes that address the mystery of our Christian faith, making a connection to how the life of Jesus is relevant in the world today. We seek a leader who will walk with all the parishioners of Good Samaritan Episcopal Church wherever we are on our spiritual journey. In the fall of 2022 we conducted a parish survey to help guide our rector search. Based on this survey, especially the written comments, it's clear that our parish is looking for a rector who is warm, compassionate, open-minded, approachable and enjoys a good laugh! We'd like a rector who appreciates our commitment to inclusion, who is committed to leading us in reaching out to the community (especially to young families), and who shares our desire to be a welcoming and diverse congregation.
Our congregation values our adult formation gatherings and outreach programs. We have a thriving preschool. We appreciate inspirational and occasionally humorous sermons that are sprinkled with personal stories of faith. We enjoy worshiping together, listening to music, conversing, and sharing food. We seek a leader who will guide us in our spiritual growth, help us retain current members, re-engage with worshippers who have not returned after pandemic restrictions lifted, attract new members and guide our vestry and preschool. We desire to invite the diverse population in our surrounding community to join us by sharing God's love. We feel that we are unique in that we are a small congregation of friends who are open, affirming and truly welcoming to everyone!
If you are called to our mission of inviting all people into a life-long journey with Christ, forming them to love God and neighbor and engage the world with God's love and grace, please respond to our call.  We wait with great anticipation to welcome, support, pray and do God's work beside you.  Until then, we keep you in our prayers.