Growing in faith is a life-long journey and we offer many opportunities for adults to explore the Christian faith and discover how to live out their faith in the world. At Good Samaritan, we value questions, wrestle with doubts, and don't settle for easy answers. Learning together in community helps us understand more about God, the world, and ourselves. Our formation opportunities for adults are safe places to wrestle with real life and discover how God is present through every stage, experience, or challenge.
Adult formation is offered in a variety of ways, including Sunday morning formation during the academic year, small groups, retreats, and weekly Bible studies.
Current Adult Formation Series:
Sunday Mornings at 9 AM
Upcoming schedule:
May 21 – Theological Reflection:
Theological reflection means knowing God and knowing about God through experience. People who have studied theology often speak of how theological reflection altered their way of thinking about their faith, bringing them greater insight, drawing them closer to God, and giving them fresh awareness of what it means to be a disciple of Jesus Christ in today's world. This new understanding has enriched and deepened their mission and ministry.
The process of theological reflection can make learning come alive, as it encourages us to make links between God's story and our story; between the past and the present. It helps us relate our lives to those of earlier people who, like us, are part of the family of God. As Christians, we have a responsibility to carry on the tradition of the people of God and to keep their story alive and real. As we examine our own beliefs and how they connect to the Christian tradition and culture, we learn to better articulate our ideas, to be more consistent and systematic, and to find ways to apply our faith in the world as Christ's ministers. We discover that opportunities for ministry are everywhere, as theological reflection helps us see how everything we do allows us to manifest the love of Christ.
Each of us is a theologian; theological reflection helps us learn to think theologically. It is exciting, creative, and challenging.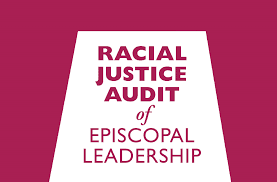 May 28 – Racial Justice Audit: The Racial Justice Audit of Episcopal Leadership surveyed and interviewed more than 1,300 members of the church's key leadership bodies about their experiences of racism, racial

identity, and power in the life of the church.

Two questions have been central to this research:
1. Who comprises the leadership of The Episcopal Church?
2. What is their experience of race and racism in their leadership roles?
On Pentecost Sunday we will take time to review the key themes identified in this audit, and to consider together what we as a parish are called to do as we continue to work toward the vision of Beloved Community.
Please read the Executive Summary in preparation for the conversation. If you would like to read the full report for additional context and detail, you can access that here.